May 02, 2018
myCME Launches 5 New Mobile Products Powered by SITO Technology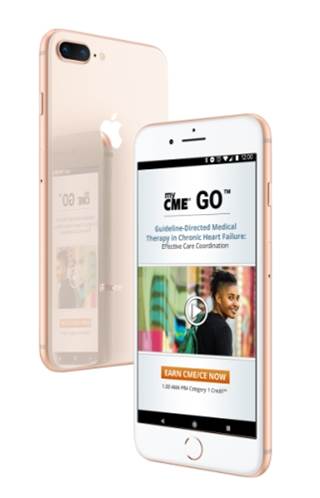 myCME GOTM, myCME LIVETM, myCME ENGAGETM, myCME PULSETM, and myCME PATIENTTM Use Novel Mobile Platform to Deliver Continuing Medical Education to Healthcare Professionals and Patient Education Resources to Patients
Paramus, N.J., May 2, 2018—In anticipation of the growing demand by healthcare professionals (HCPs) to access and participate in continuing medical education (CME) activities on mobile devices, and to provide patients mobile access at the time they are most receptive to receiving patient-education information, global online medical education leader myCME announces the launch of 5 new mobile-based products:
myCME GOTM : Reaches a verified network of HCPs with custom video or audio CME content—specifically designed for mobile use—for clinicians interested in "on the go" learning.
myCME LIVETM : Offers robust data integrated with a first of its kind geo-targeted mobile platform to boost attendance by HCPs to live CME meetings.
myCME ENGAGETM: Increases engagement with enduring CME activities by precisely targeting HCP learners by specialty, real-time location, and other relevant HCP insights.
myCME PULSETM: Provides HCPs a mobile forum for feedback on current practices and perceptions, driving development of CME to fill education gaps, motivate learning, and behavioral change.
myCME PATIENTTM: Engages high-quality patient audiences at point-of-care or other relevant locations to deliver applicable education resources.
To accurately verify that the intended audience is reached by myCME GOTM, myCME LIVETM, myCME ENGAGETM, myCME PULSETM, or myCME PATIENTTM products, each program is powered by a 5-point verification mobile platform created as a result of a partnership between SITO Mobile—the insights-driven Consumer Behavior and Location Sciences™ company—and myCME's parent company, Haymarket Media.
"The SITO Mobile location-based data platform, in concert with myCME and the Haymarket Medical Network insights database, is a powerful combination," said Matthew Holland, myCME/Haymarket Medical Education General Manager. "It's an innovative and one-of-kind approach that enables myCME to expand targeted reach while delivering highly relevant CME and Patient Education in a mobile format that both clinicians and patients appreciate."
"Using advanced data science and analytics to gain critical insights on past HCP behavior, analyze real-time interactions with unprecedented speed and accuracy, and then optimize educational campaigns in the moment is an ideal application of the SITO Mobile platform," said Tom Pallack, CEO of SITO. "We're excited that myCME will be incorporating it in their efforts and believe it will allow myCME to reach and engage HCPs with laser-sharp accuracy."
Content for myCME GOTM, myCME LIVETM, myCME ENGAGETM , myCME PULSETM, and myCME PATIENTTM is developed by Haymarket Medical Education (HME), an Accreditation Council for Continuing Medical Education accredited provider, for myCME, leading academic institutions, professional medical societies, and advocacy groups. Content can be developed using any one of the programs, or programs can be used in concert to create a blended CME learning experience.
For more information, about myCME GOTM, myCME LIVETM, myCME ENGAGETM, myCME PULSETM, or myCME PATIENTTM, please contact Matthew Holland, HME/myCME General Manager, at 973.580.8595 or matthew.holland@haymarket.com.
About myCME and Haymarket Medical Education
Recognized as a global leader of CME, myCME and HME reach 2.2 million HCPs with relevant, engaging, and actionable education that positively impacts clinical performance and patient outcomes.
With top-quality courses across multiple specialties and award-winning education that inspires at the learner level, myCME and HME provide scientific and medical knowledge designed to elevate the performance of both practitioner and practice. HME is an Accreditation Council for Continuing Medical Education–accredited provider of CME.
To learn more about myCME, visit mycme.com.
About Haymarket Media
Haymarket Media is an award-winning specialist content and information group. With 24 market-leading media brands, Haymarket offers unmatched expertise and insight through balanced, relevant, original content across a spectrum of media channels. Haymarket is home to the highly regarded HCP brands such as Clinical Advisor, Dermatology Advisor, and MPR among a portfolio of HCP-focused, specialty-specific websites, as well as the esteemed business media titles PRWeek and MM&M. For more information about Haymarket Media, visit haymarket.com.
About SITO Mobile, Ltd.
SITO turns the consumer journey into a powerful instrument for marketers, delivering actionable insights that influence behavior in real-time. Through Consumer Behavior and Location Sciences™, SITO develops customized, data-driven solutions for brands spanning strategic insights and media. Our science and products reveal a deeper, real-time understanding of customer interests, actions and experiences providing increased clarity for brands when it comes to navigating business decisions and delivering advertising. The company is home to an internally developed, proprietary location-data technology stack, arming clients with a powerful resource for granular data, real-time insights and optimization, and delivery of successful media campaigns. Using in-store targeting, proximity targeting, geo-conquesting and attribution data, SITO creates audience profiles to develop measurable hyper-targeted campaigns for brands. For more information regarding SITO's science, technology and customized solutions spanning media and research, visit sito.mobile.com.
Contact
Matthew Holland
HME/myCME General Manager
973.580.8595
matthew.holland@haymarket.com