August 20, 2018
myCME and Kognito Partner to Offer State-of-the-Art Virtual Learning Simulations to Healthcare Providers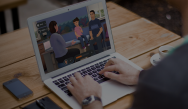 Online Continuing Medical Education (CME) Program Provides Patient-Provider Skills Training
Paramus, N.J., August 20, 2018—In its ongoing efforts to offer healthcare providers (HCPs) innovative learning tools for improved patient care, myCME—the global online medical education leader—and Kognito, a healthcare industry pioneer in the development of research-proven, role-play simulations with virtual humans, have partnered to launch a Patient-Provider Skills Training program on myCME.
The program provides HCPs guidance and practice in navigating conversations with patients on topics such as substance use and mental health. The platform helps build and assess the competency of health professionals in conducting screening and brief Interventions (SBI) for such conditions, and providing coordinated referrals to treatment when needed.
The bundle includes 4 interactive simulations that use gaming technology and incredibly lifelike virtual humans to create clinical practice scenarios complete with role-play conversations between clinicians and patients. Participants completing all 4 simulations can receive 4.50 AMA PRA Category 1 CreditsTM.
Available within the myCME Marketplace at www.mycme.com/kognito, the research-proven virtual patient simulations for Screening, Brief Intervention, and Referral to Treatment (SBIRT) training and continuing education costs $249.
"The combination of conversation and gaming technology utilized in these state of the art simulations offers learning and feedback our learners will really respond to," said Matt Holland, General Manager, myCME. "We're very pleased to be partnering with Kognito on this initiative and believe this program will help clinicians build skills for meaningful and productive discussions with patients in real life."
"The simulations in this CE-certified bundle provides a unique and interactive learning experience for clinicians and health professionals to practice navigating conversations with Kognito's scientifically designed virtual patients in a safe, risk-free environment." said Ron Goldman, CEO and Co-Founder, Kognito. "We are excited to be working with myCME and to be offering this bundle of simulations to their 2.2 million clinicians."
About myCME
Recognized as a global leader of online medical education, myCME reaches 2.2 million healthcare professionals with relevant, engaging, and actionable education that positively impacts clinical performance and patient outcomes.
With top-quality courses across multiple specialties, myCME and its sister accredited provider of CME, Haymarket Medical Education, provide scientific and medical knowledge designed to elevate the performance of both practitioners and their practices.
In addition to housing complimentary CME/CE courses, myCME offers hundreds of intensive courses, board reviews, exam preparatory programs, state-required CME, and more in the myCME Marketplace to provide clinicians access to quality, hard-to-find education they want and need to maintain professional certification requirements.
To learn more about myCME and HME, visit mycme.com.
About Kognito
Kognito is a health simulation company that believes in the power of conversation with virtual humans to change lives. Our evidence-based simulations prepare individuals to lead real-life conversations that result in measurable changes in social, emotional, and physical health. Kognito's growing portfolio of simulations is used by 300+ leading health, education, government, and non-profit organizations for professional development and public education. To date, more than 1 million people have engaged in a Kognito simulation. Kognito is the only company with health simulations listed in the National Registry of Evidence-Based Programs and Practices (NREPP).
To Learn more about Kognito, visit kognito.com.
Contact
Matthew Holland
myCME/HME General Manager
973-580-8595
matthew.holland@haymarket.com