June 07, 2016
We Asked: What Differentiates PAs from NPs Most?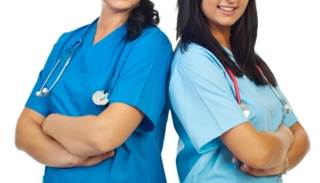 We Asked: What Differentiates PAs from NPs Most?
In last week's Buzz, we shared an interesting perspective from a dual physician assistant (PA) and nurse practitioner (NP) who thinks the two professions are actually quite different—despite the fact that they're often lumped together as "mid-level providers."
We asked you to tell us how the two differ most. Here's what your PA peers had to say.
---
◉ I have been a PA for 36 years, with two-thirds of that time spent in family medicine. I presently work in endocrinology, but that experience comes in handy when our patients occasionally present with general medical problems. I believe that the most significant difference [between PAs and NPs] is our being trained in the medical model. We are taught to think like physicians, developing differentials and treatment plans as they do. I think the freedom that NPs have been given to practice independently is a great mistake, one that does not serve patients appropriately. When an NP misses a diagnosis, the patient is at risk. If I am not certain about a best course of action, I can contact my employing physician, and I do.
◉ I believe a lot depends on where you practice. I have found that administrators like NPs because their billing is so flexible. As a group, I find PAs to be more loyal to their physicians since we cannot work without them. I have consistently heard NPs voice the fact that they don't "need" a physician. I like knowing a physician has my back. I've trained NPs, and I have always been uneasy about having NP students do their practical when they have just started their coursework. They seem to think that RN is interchangeable with NP and give themselves more credit than they deserve. With the PA education, coursework is completed before hands are placed on the patient. When I did my rotations, I spent 40+ hours a week seeing patients, whereas the NPs I trained clocked 250 hours for the entire semester. I don't think it is enough supervised time.

◉ I am no expert in PA schooling, but the focus of PAs I have precepted is similar to a 2 year RN. They are skill-based and have no understanding of how to asses and implement a lab or care for the patient.

◉ PAs have more CEs (50 hours/year) and they are recertified every 6 years. NPs can relax.

◉ All nurse practitioners have a nursing background, whether that's decades of working as a nurse or graduating from a BS/Master's combined RN/NP degree program. Physician assistants come from various backgrounds, including various medical professions, education, engineering, law, and nursing to name just a few. PAs are trained to work well in a team lead by a physician. There isn't a drive, per se, to be independent practitioners. PAs are dependent practitioners by definition. But we are often independent by default as we earn the trust of both patients and the physicians that provide supervision, whether they are on site or available by phone. PAs are content to make a difference. Both PAs and NPs are competent providers who are patient-centered and patient-friendly. There's work enough for all of us and we can work harmoniously together.
◉ The coursework [for PAs and NPs] is not similar. The PA spends much more time in clinical rotations getting hands-on training and experience. I work with an NP who has repeatedly stated that she wishes her training had better prepared her for the real world. She has 2 children who are both starting their PA education, and she is happy that "they will be much better prepared than she was."

◉ I agree with the author that PAs are trained in a medical model while NPs are trained in a nursing model. Another major difference is the amount of time spent in preceptorships. Most PA programs require between 1600 and 1900 hours of preceptorships, predominantly in family medicine but in specialties as well. Most NP programs require less than 750 hours of preceptorships. This is a monstrous difference in the levels of experience when practicing as a new grad.

When someone asks me if he should see a PA or an NP, I tell him this: if you wish to have a provider who is 90% concerned about fixing your illness/injury and 10% concerned about your feelings about the injury or illness, then see a PA. If you want a provider who is 50% concerned about fixing your illness/injury and 50% concerned about your feelings about the illness/injury, then see an NP.